Sailing / Yatching holidays in Italy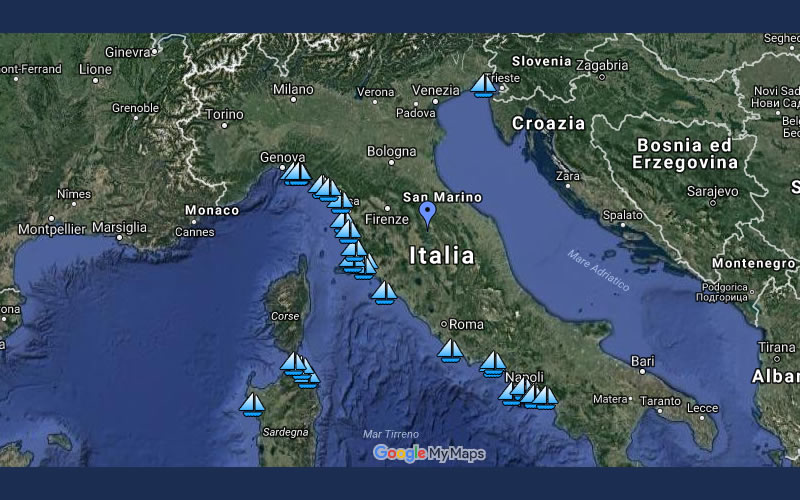 Category: Boats in the world - Tag: Italy
Most of the Italian territory faces the Mediterranean Sea, which itself includes smaller seas surrounding the peninsula. To the mainland one has to add numerous islands (Sicily and Sardinia in the top) and minor archipelagos such as the Tuscan Archipelago, the Pontinian Islands, the Eolian Islands, the Egadi Islands, the Pelagian, the Tremiti Islands, the Archipelago of La Maddalena , Tavolara, Asinara, Sant'Antioco and San Pietro.
About boats availability and prices
In Italy we have the availability of sailing boats for 4-6 persons starting from € 1500 (about 300 € per person) for a week.
The weekly rental of sailing boats with 8-10 beds starts from € 2600 (about 290 € per person).
If you add the skipper service there is an extra cost of about € 1000 per week to be divided among all passengers.
We also rent catamarans, gulets and motor boats.
For a detailed quote please contact us via our information request form.
La maggior parte del territorio italiano si affaccia sul Mar Mediterraneo che a sua volta comprende mari più piccoli che circondano la penisola. Al territorio continentale si aggiungono numerose isole (la Sicilia e la Sardegna tra le prime) e arcipelaghi minori come l'Arcipelago Toscano, le Isole Pontine, le Isole Eolie, le Isole Egadi, le Pelagie, le Isole Tremiti, l'Arcipelago della Maddalena, Tavolara, l'Asinara, Sant'Antioco e San Pietro.
From north to south, Italy is a paradise for surfers, for sailors and for those who love going to sea and enjoy the beauty that nature has given us. Hidden coves and bays that can only be reached by boat; crystal clear waters where you can dive at anchor after a siesta; breathtaking red colored sunsets.
Departure ports in Italy and information about cruises
Friuli Venezia Giulia (Northern Adriatic Sea)
Main ports:
Trieste,
Grado,
Monfalcone,
Lignano Sabbiadoro
Liguria (Ligurian Sea)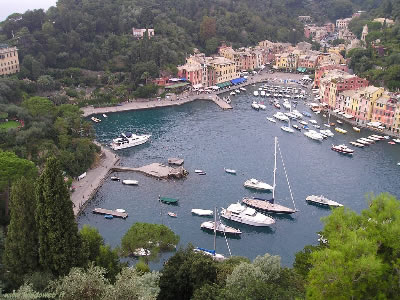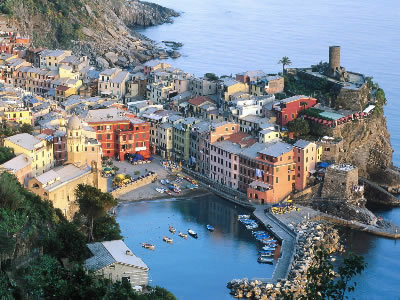 Main ports:
San Lorenzo al Mare,
Portofino,
La Spezia,
Lavagna,
Lerici,
Portovenere,
Chiavari and Bocca di Magra
Tuscany (Northern Tyrrhenian Sea)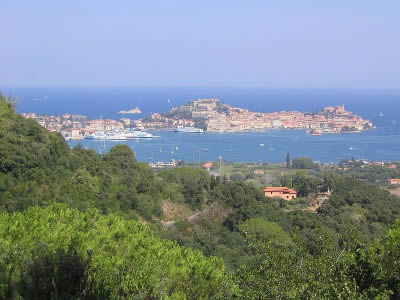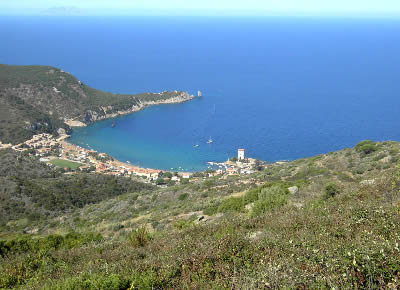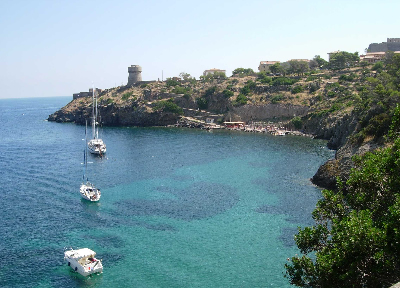 Don't miss the biggest "pearl" of the Tuscan Archipelago, Elba Island, with its beaches, glittering with precious minerals and the beautiful turquoise waters.
Among the most beautiful beaches you should visit Barbarossa (Porto Azzurro), Calanchiole (Portoferraio), Enfola (Capo d'Enfola), Cala dei Frati (Portoferraio), Le Piscine (Marina di Campo), Fetovaia (Marina di Campo), Cala del Telegrafo (Rio Marina). The Tuscan island offers 150 km of coastline, defined by quiet coves, cliffs and wonderful seabeds of the Marine National Park. A tip: do not stay always on board, get off to the ground and enjoy the cuisine of Elba, characterized by healthy and tasty recipes as the "stoccafisso alla riese", the "gurguglione" and the "schiaccia briaca".
Main ports:
Livorno
Rosignano Solvay
San Vincenzo
Salivoli
Marina di Scarlino
Punta Ala
Porto Ercole
Cala Galera
Rio Marina
In Lazio (Central Tyrrhenian Sea)
Main ports:
Roma
Civitavecchia
Ostia
Nettuno
Anzio
Gaeta
In Sardinia (Central Tyrrhenian Sea and Sardinia Sea)
Another destination you have to write on your logbook is Sardinia, with its "natural pools" and the lonely bays of golden and white sand . If you are planning a sailing cruise in the northern part of Sardinia, you are going to sail around the Arcipelago of La Maddalena, the Island of Tavolara, Asinara, and along the "Riviera del Corallo" (Alghero). From Cagliari, instead, you can admire the stretches of white sand characterizing the southern part of Sardinia.
Main ports:
Olbia,
Marina di Portisco,
Palau,
Cannigione,
Alghero,
Carloforte,
Cagliari
In Campania (Central Tyrrhenian Sea)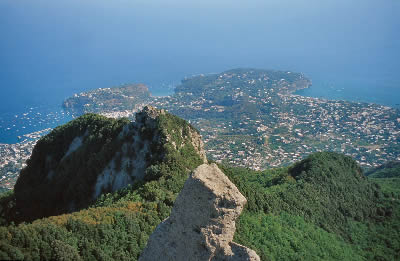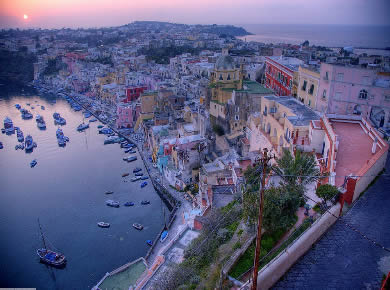 Main ports:
Napoli,
Ischia,
Procida,
Castellamare di Stabia,
Salerno
In Calabria (Southern Tyrrhenian Sea)
Main ports:
Vibo
Valentia,
Tropea,
Reggio Calabria
In Puglia (Southern Adriatic Sea and Northern Ionian Sea)
Main ports:
Gallipoli,
Otranto,
Monopoli,
Vieste
In Sicily (Southern Ionian Sea, Southern Tyrrhenian Sea and the Strait of Sicily)
Sailing through the Eolie Islands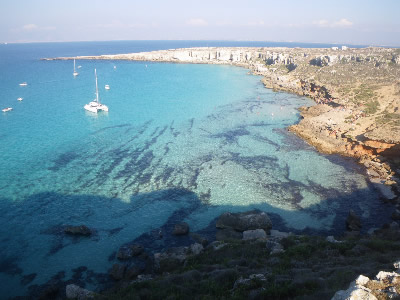 An ideal destination for an unforgettable cruise are the Eolian Islands, where life proceeds with the natural rhythms of sun and wind. In one week you can see them all: Alicudi, Filicudi, Salina, Lipari, Vulcano, Panarea and Stromboli. The routes among these seven islands are easy and short, no longer than two hours sailing.
You will be strucked by the local cuisine: a triumph of flavors with two unique inimitable jewels, the famous capers and "Malvasia di Salina". Diving lovers will have breathtaking emotions at the sight of rarities such as the yellow and red gorgonians and the so-called "landslides", that are cliffs of rocks with different gradients hosting a benthos well represented with groupers and valuable seafood.
Visitin Egadi Islands by boat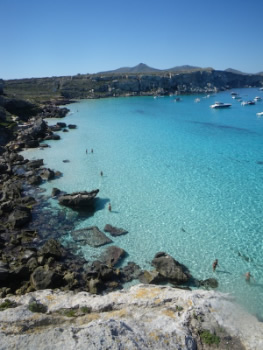 Renting a boat in Palermo, Trapani or Marsala you can head towards the largest marine reserve of Europe, the Protected Marine Area of the Egadi Islands: Favignana, Levanzo and Marettimo. The clear waters, the small projections, bays, coves, and the particular attraction of the tuna fishery are the landmarks for many sailors. Don't miss Cala Rossa, one of the symbols representing the beauty of the seabed of Favignana. Its turquoise colored sea creates a striking contrast with the surrounding white tuff walls. The boats anchored in these bays seem suspended in the air if not for their shadows drawn on the bottom!
Main ports:
Palermo,
Milazzo,
Portorosa,
Lipari,
Trapani,
San Vito Lo Capo,
Marsala,
Messina,
Siracusa,
Marina di Riposto,
Marina di Ragusa
The destinations for your sailing holidays are so many in Italy. If you need advice we are here for you. La Bottega del Mare is personally acquainted with the best boat owners in Italy and provides you with seriousness and professionalism.